Got wedding questions?
We've got
the answers!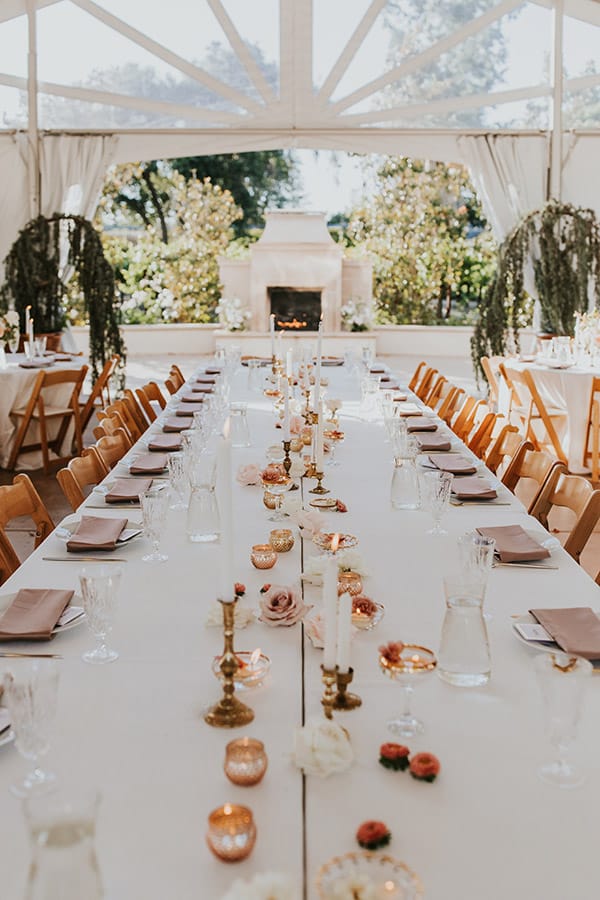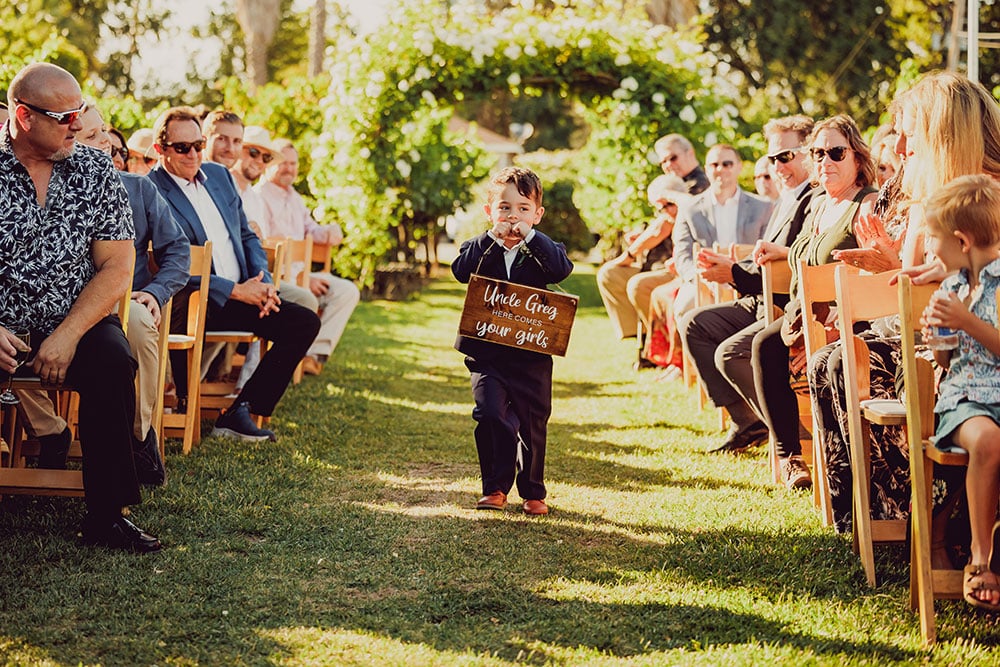 Photo credit: Dee and Kris (left); Color & Catchlight Co (right).
What is included in our wedding?
So many things! Check out our detailed list here.
Do we need to get a coordinator?
We do not require you to have a Coordinator as we include a lot of support and coordination along the way, including a day-of Facilitator for most things a coordinator would do day-of. The only thing you may want a coordinator for is to manage your decorations, gift/card station, guest book, and dessert table, as these are the only pieces of the puzzle that our team does not handle. If you have a florist and baker, they will take care of arranging any centerpieces and the dessert table. If you have rented any tabletop items through Paesanos (dishes, linens, cutlery), they will set those up for you. If you don't want to hire a coordinator, you will be required to appoint a Personal Set-Up person (decorator – i.e. cousin, aunt, friend, etc.) to be in charge of decor setup, gift/card table setup, signage, etc. so that you don't have to worry about those things on your big day!
What will our day-of Facilitator be in charge of?
Your SBV Facilitator will be the main face for Scribner Bend Vineyards on your wedding day. They will be ensuring your vendors are arriving on site on time, managing our Event Staff as they place your reception tables and chairs/ceremony chairs/cocktail hour and bar service, ensuring your Personal Set-Up person (decorator) has placed all items in their corresponding spots (table numbers, guest book, decor, etc). They will run your entire ceremony processional, communicating with your DJ/Band on timing and when to switch songs while lining all attendants up for your ceremony and sending them down the aisle. They will also organize your Grand Entrance into your reception and maintain contact with your DJ/Band and Paesanos Catering to make sure the rest of the evening runs smoothly and on time.
Who usually covers the tasks that our Facilitator does not cover?
Your Personal Set-Up person (decorator). This is someone you trust to place all your personal pieces – we recommend selecting close family or friends. Please do not select anyone for this role that is included in photos before the ceremony, due to the timing of set-up and photos with your photographer. We suggest you meet with this person the week of your wedding and discuss what items you are bringing on site and where they will need to be placed. Leaving a note and schematic (provided by our Event Director beforehand) with highlighted tables/areas in each tote describing the items and their placement is always a great idea! Our Event Director will be in contact with them leading up to your wedding to make sure they have all the appropriate timelines and schematics, but we will unfortunately not be able to answer specifics on your items for this person, such as how you want certain décor to look on each table.
Do we have to run our own rehearsal?
One of our experienced SBV team members will run you through your wedding rehearsal and answer any last minute wedding questions you might have that day.
Do we need to set up tables and chairs?
Not at all! Our experienced Events Team will set up all included tables and chairs according to your requested layout. If you rent or bring in different tables or chairs, we will make sure they are where they need to be as well.
Who keeps tables clear of dirty dishes and glasses during the cocktail hour and reception?
Paesanos catering team will bus all dishes throughout the evening.
What are we responsible for at the end of the evening?
Your designated End of Evening (parents, wedding party attendants) person is responsible for gathering and packing any decorative items you brought with you, including gifts, cards, guest book, and signs. Our crew will take care of all the heavy lifting, cleaning, and trash.
Do you include linens and other tabletop items?
While we do include wine glasses, we do not include any linens, place settings, etc – we want to make sure that you get just the colors and styles you want! Linens, place settings, flatware, water glasses, champagne flutes, and anything else for your tables can be coordinated through Paesanos. They partner with a local company, Celebrations Party Rentals, to bring you easy access to a huge selection of items, colors, and styles. You are also welcome to rent items on your own if you so choose, but most of our couples find it much easier to go through Paesanos.
What if we want all long tables for our reception rather than rounds?
We have just enough 8′ and 6′ tables for a traditional head table or King's table. If you'd like all your guests seated at long tables, you can rent additional tables through Celebrations.
Are heaters available?
Yes, we will provide complimentary heaters during your wedding if hosted during our cooler spring and autumn months.
When should I schedule my "Detail Appointment"?
Our Event Director, Jess, will reach out about 4 months before your booked wedding to coordinate a day and time for this one-on-one appointment, in which she will work with you to finalize all your wedding day details. We've found that this appointment usually works best if scheduled about 8-10 weeks before your wedding.
When is our rehearsal?
Most couples schedule their rehearsal for the day before their wedding. We can schedule rehearsals as late as 2:00, 3:00, or 4:00pm on evenings with no weddings or events, or up until noon or 1:00pm on days that have scheduled weddings or events.
How long will our rehearsal take?
We budget an hour for your rehearsal, but how long it actually takes depends entirely on the group. We've had some go as quickly as 20 minutes and others that have taken the full hour. We do often schedule rehearsals back-to-back, so being punctual is critical – we don't want to hurry through your rehearsal or have to cut into someone else's time.
What time can we arrive at the Bungalow and Airstream Lounge?
The Bungalow is yours starting at 10:30 AM, and the Airstream Lounge is yours starting at 1:00 PM. When your reception is over, you and/or your helpers will clear all personal belongings from both areas so that our cleaning crew can come in.
What time can we and our vendors come onsite to set up decorations, DJ station, etc?
Your vendors can arrive on-site for setup at 2:00pm and your Personal set up person/crew can start decorating for your wedding and reception 2 hours before your ceremony begins.
When does bar service begin?
Bar service begins immediately after the ceremony.
Can we have hard alcohol?
Due to our liquor license, hard alcohol is not allowed anywhere on property. This includes in the Bungalow and Airstream Lounge.
Can we have a dry wedding?
You can absolutely have a dry wedding! If this is an option you are interested in, please let us know, and we'll provide pricing for you.
Can we place individual bottles of wine on the reception tables?
For many long and boring legal reasons, all alcohol must be served by our bartenders at the bar – no bottles may be placed on the tables for self-service.
Do we have to use the "Preferred Vendors"?
The ONLY required vendor is Paesanos Catering. You are welcome to choose any other vendors that fit you best, whether they are on our list or not. If you choose a vendor that isn't on the list though, there is a Non-Preferred Vendor Fee of 5% to that vendor. This 5% is based on your contract rated with that vendor. You should discuss this with vendors prior to entering into a contract with them – if their pricing doesn't allow room for the vendor fee, then the fee will be added to your wedding contract with SBV as your responsibility to pay. Any vendor that isn't on the Preferred Vendor list must be approved by SBV. You are responsible for forwarding any non-preferred vendors the appropriate vendor information sheet which is provided to you via email after booking your wedding.
What time can we and our vendors come onsite to set up decorations, DJ station, etc?
Your vendors can arrive on-site for setup at 2:00pm and your Personal set up person/crew can start decorating for your wedding and reception 2 hours before your ceremony begins.
Do we have to purchase Wedding Insurance?
Yes, we require all weddings to purchase wedding insurance. We recommend WedSafe or The Event Helper as they are very easy to use.
Can we leave decorations overnight after the wedding?
Because we are a busy winery open to the public, we are unable to store any decorations or personal items overnight after your wedding.
Can we leave bigger rentals overnight after the wedding?
Rentals can be delivered the morning of your wedding day and must be picked up by 8:00am the following morning. Any rentals done through Paesanos will be handled by Celebrations, meaning you don't have to worry about any of those timing questions!
Can we or our guests leave cars overnight?
If anyone at your wedding decides to consume alcohol and needs to carpool or take an Uber or taxi home at the end of the reception, they are more than welcome to leave their car overnight in our parking lot. All cars are required to be picked up by 11:00am the following morning. Any vehicles left overnight are not our responsibility, but the car owner's.
What's the maximum guest count?
225 guests April–October, 125 guests in March and November.
What if it's cold or rainy?
We have a number of weather contingency plans already in place! Our reception tent has three windowed sides that can be opened or closed in accordance with the weather. If it's raining (said to be good luck!), we'll set up your ceremony under the tent or in the barrel room depending on the number of guests; guests will then be invited into our converted barn with central heating for cocktail hour while we reset the tent for your reception. Finally, we'll clear a space under the tent for your dance floor… rain or shine, all you have to do is enjoy the evening!
How many people fit at the round dining tables?
Is there a cake cutting fee?
No, there is no cake cutting fee. Paesanos Catering is happy to cut your cake at no cost.
You'll love our transparent pricing and all the beautiful details included in your wedding here at Scribner Bend Vineyards!
Curious about dates? Have any unanswered questions? Let us know!
To make things easier for you, we've put together a list of vendors who have proven themselves expert at utilizing our space to your fullest advantage.