New Wine Tasting Event in Sacramento
"Welcome, everyone to the place where all the magic happens – the Barrel Room!"
I flourished my hand with a broad smile as I opened the door to the unmarked barn-like building off Scribner Bend Vineyard's back courtyard. The 12 people I had shepherded to the starting point of today's new event craned their necks with eager anticipation as they filed in, gazing up at the oaken casks stacked nearly to the high roof overhead. There were audibly deep sniffs at the heady scent of aging wine that filled the air. Happy banter floated about as everyone jockeyed for just the right spot at the elevated barrel-top bars where we had set up glasses and the tasty nibbles intended to pair with each of today's wines.
I cleared my throat and raised my hands to quiet everyone down.
Meet the Winemaker
"Thank you, all, for joining us for our very first annual Taste of Tempranillo experience! International Tempranillo Day was just a couple of days ago, and we are very excited to have the opportunity to celebrate our flagship wine with all of you in this new wine tasting event."
A quick introduction of myself and a couple of minor housekeeping details later, we were on to the main attraction.
"Now I present to you the man behind the curtain, the magical hand behind our delicious wine, Winemaker Cuong Tran!"
And with that, we were waltzing our way through an exclusive, hour-long vertical tasting of our most beloved varietal, led by Cuong himself.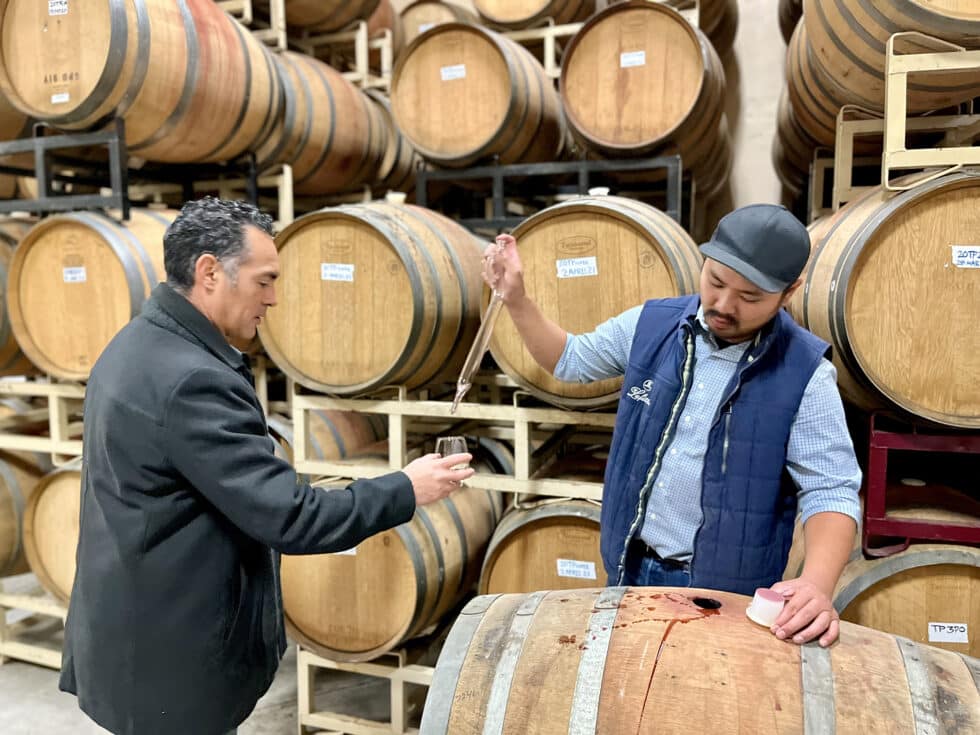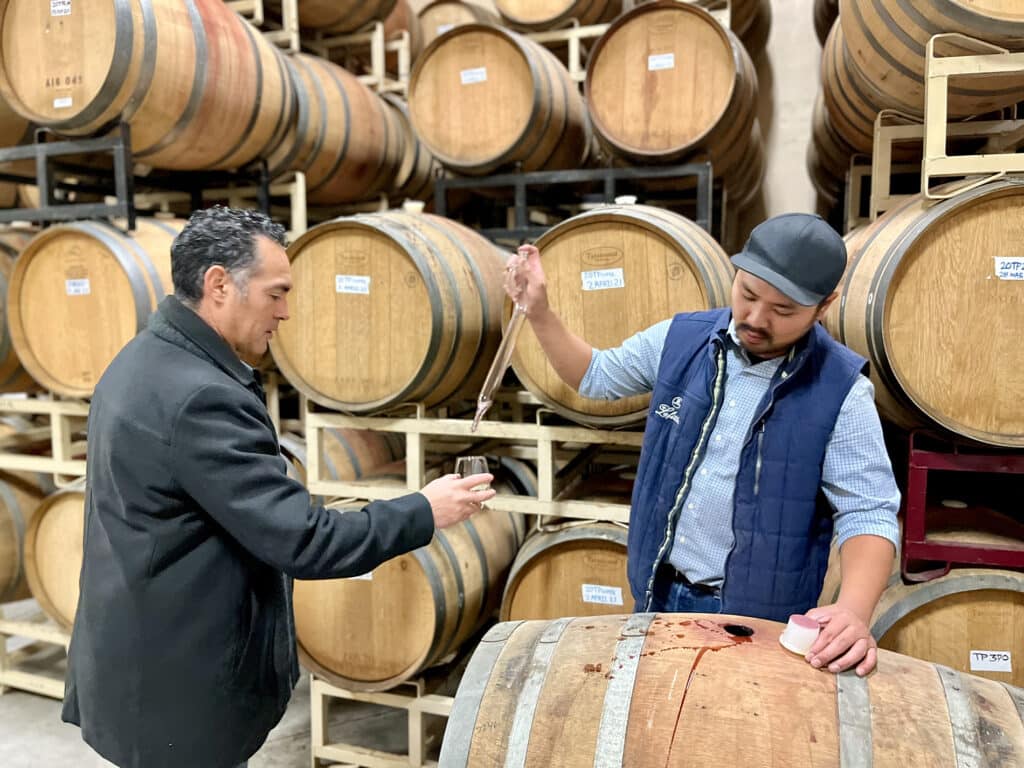 Guided Wine Tasting
The 2016 Black Hat Tempranillo, pulled from the back corner of SBV's library of past wines, was rich and lovely, especially when sipped alongside the gruyere-cheddar blend on everyone's plate. And while most of the group bemoaned the fact that it wasn't available for purchase, I could hear other thoughtful speculations floating around.
"If the 2016 tastes this fantastic six years later, I'm sure the current vintage is going to lay down just as well."
"Should we buy a case of what they have now and stick it in the back of the closet for a couple of years? Just imagine how luscious it's going to be a little ways down the road…"
With a touch of well-merited pride in his voice, Cuong started pouring round 2.
"Speaking of the current vintage, here is our 2019 Black Hat Tempranillo. Try that along with the smokehouse almonds in front of you and see what flavor notes you pick up."
Murmurs of delight buzzed about.
"That's delicious!"
"Do you get that touch of spice?"
"Oh my, I do!"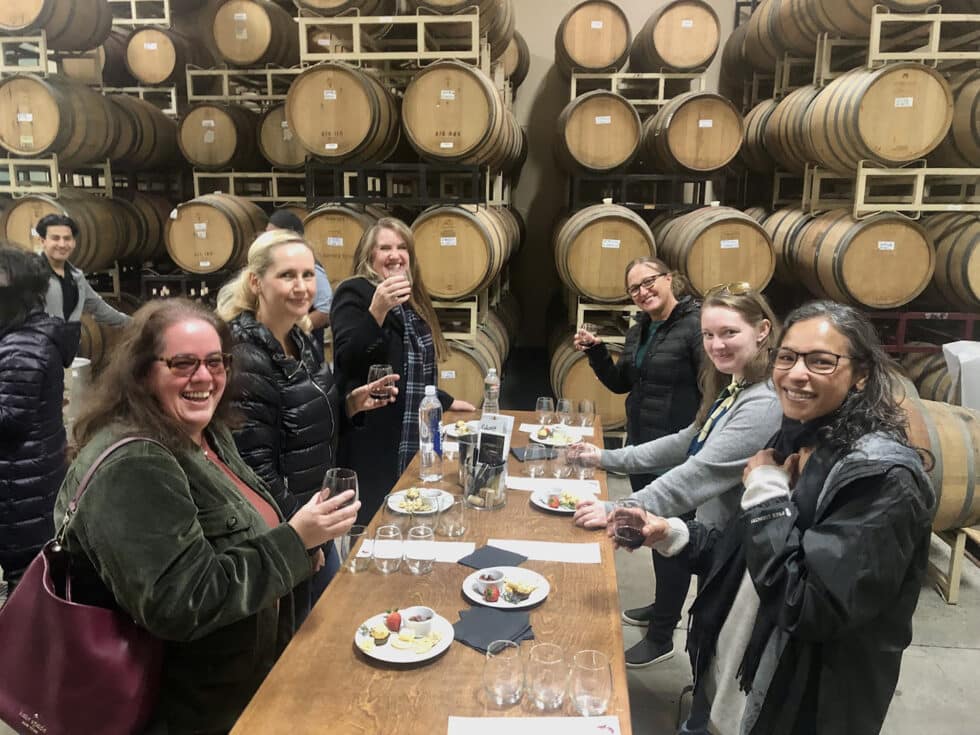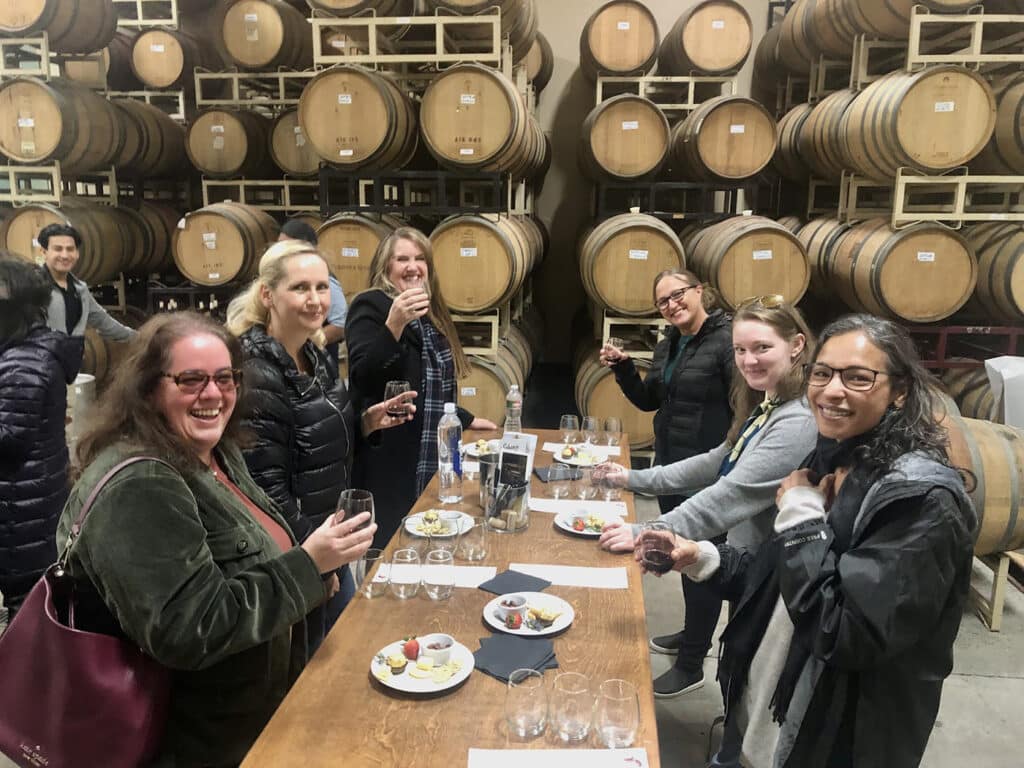 Wine Tasting Friends
Just like that the group, most of whom had met today for the first time, started to connect over their mutual love of learning and wine. When we moved on to a side-by-side tasting of two different barrels of the upcoming vintage of Tempranillo, the camaraderie continued to grow, everyone sharing enthusiastic comments with their neighbors on the fascinating complexities of the winemaking process.
Cuong was in his element as he invited each member of the group up to get a taste of some barreled port-style Tempranillo from his elegant "wine thief," his love for his art on display as he explained tasting techniques, gave pointers on pairings, imparted winemaking lore, and answered any and all questions put to him by each of the attendees. With the event nearly over, the group orbited in cheery clusters around Cuong, everyone intent on taking advantage of this unique opportunity to connect with the man who masterminds all of Scribner Bend's wines. Even after we signaled the end of the day's event with a boisterous thank you and adieu, the clusters of new friends who had met for the very first time today continued to chat. Some groups even made plans to continue their exuberant conversations over fresh pizza out in the courtyard.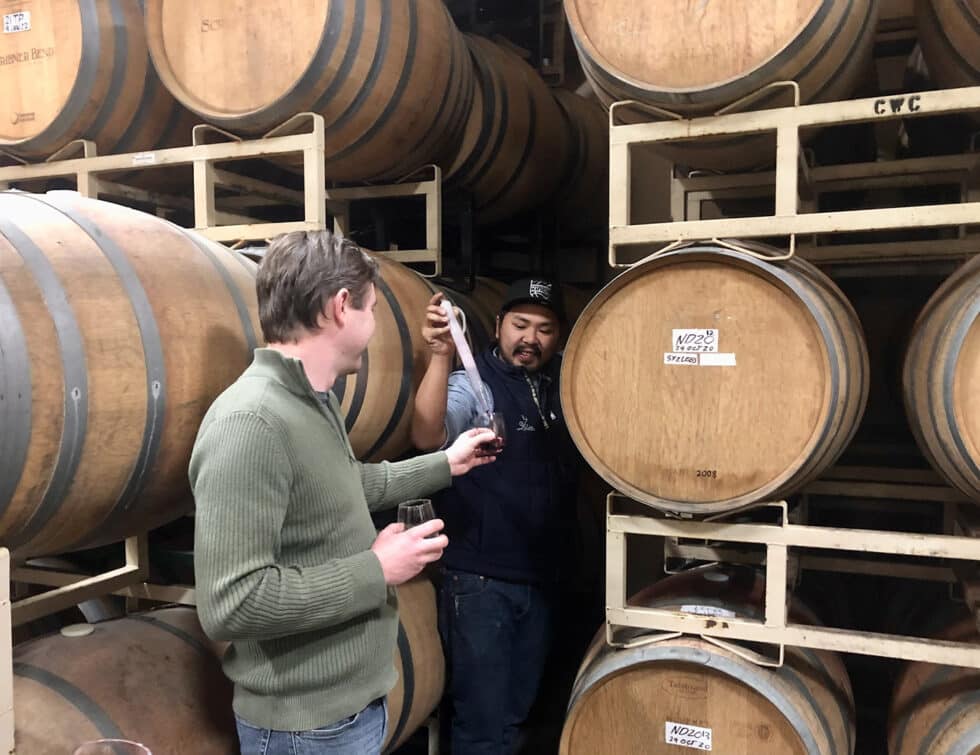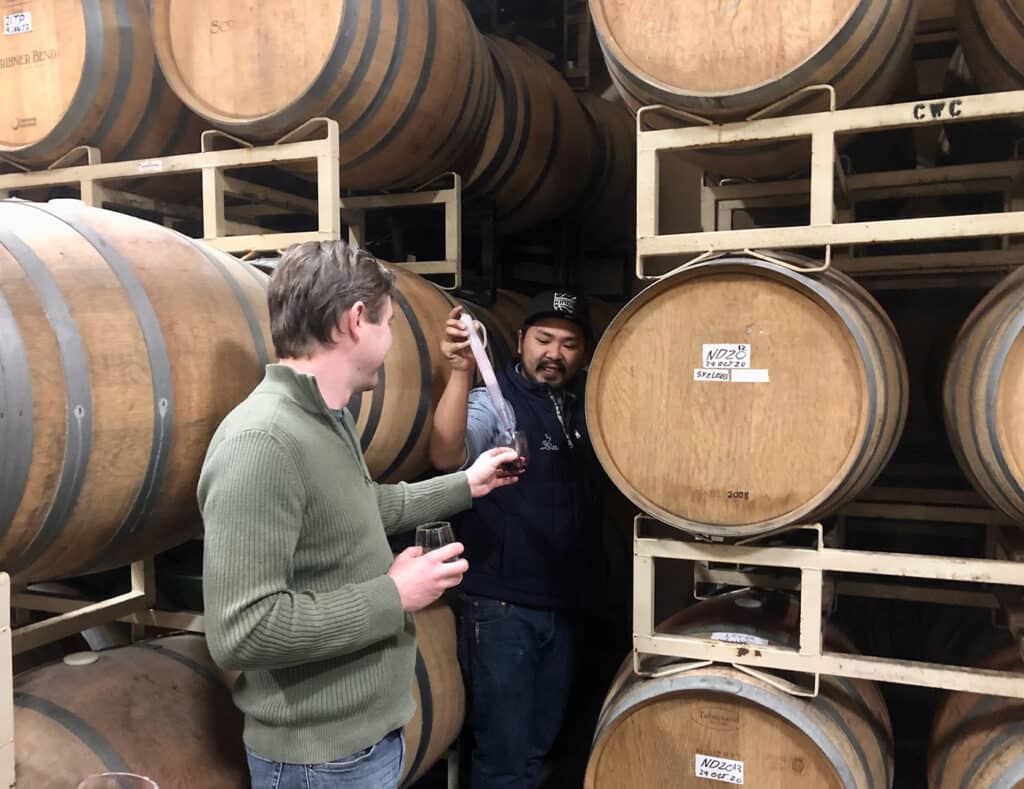 A Successful Wine Tasting Experience
As we cleaned up and wound our way through the outdoor tables full of lively chatter with dirty plates and glasses from the Barrel Room piled up in our hands, we couldn't help but smile. Our first annual Taste of Tempranillo guided wine tasting had grown into an experience beyond what we had anticipated. Yes, it had been a wonderful, intimate way for our Wine Club members to connect with our winemaker and learn more about our wine, AND it had proven to be a marvelous opportunity for community and fellowship. What more could we have asked for?
---
Our second "Taste of" guided wine tasting experience this past spring with Nero d'Avola was another great success! We have already started booking up for our Taste of Summer event this July 7th & 8th – focused on some of our most popular white wines. Looking for a unique wine tasting experience in Sacramento for the summer? Sign up for your spot now before it all books up!
…and remember, Wine Club members get discounts on all winery events!