Outdoor Wedding Season Starts
Spring is here! And the gradually increasing sunshine and accompanying explosion of green across our grounds means the Sacramento wedding season is upon us here at Scribner Bend Vineyards. Our dedicated Maintenance Team has been diligently grooming all the gardens to get ready, and our experienced Events Team has been going over schedules and making all sorts of behind-the-scenes preparations.
Jess Dressel, our Event Director, has been in constant touch with our spring couples, making sure everything is in place and everyone is taken care of. We sat down with Jess the other day in between her phone calls, emails, Detail Appointments, and rehearsals – all the long list of ways in which she supports our couples. We had to ask that burning question that every engaged couple has: "Why should I get married at Scribner Bend Vineyards?"
Easy Winery Weddings
"That's an excellent question!" Jess laughed. "I'll tell you the same thing I tell pretty much every couple that comes through looking for their ideal Sacramento wedding venue. Essentially, it's just so easy to get married here!"
"What do you mean?"
"Well, let me tell you my own wedding story. That may help explain things. For a little background, I started dreaming about my wedding right after meeting my (now) husband way back in high school. I took that dream and went on to study Event Management at Chico State. By the time I took a job as Wedding Coordinator here at Scribner Bend right out of college in 2016, I already knew more or less what I wanted our wedding day to look like.
I fell in love with the grounds here right away – they're so gorgeous and green that you don't really need to worry about decorations! And the wedding team does such an amazing job for every wedding and reception, that by the time we started planning our own wedding, I knew we would be taken excellent care of on our big day."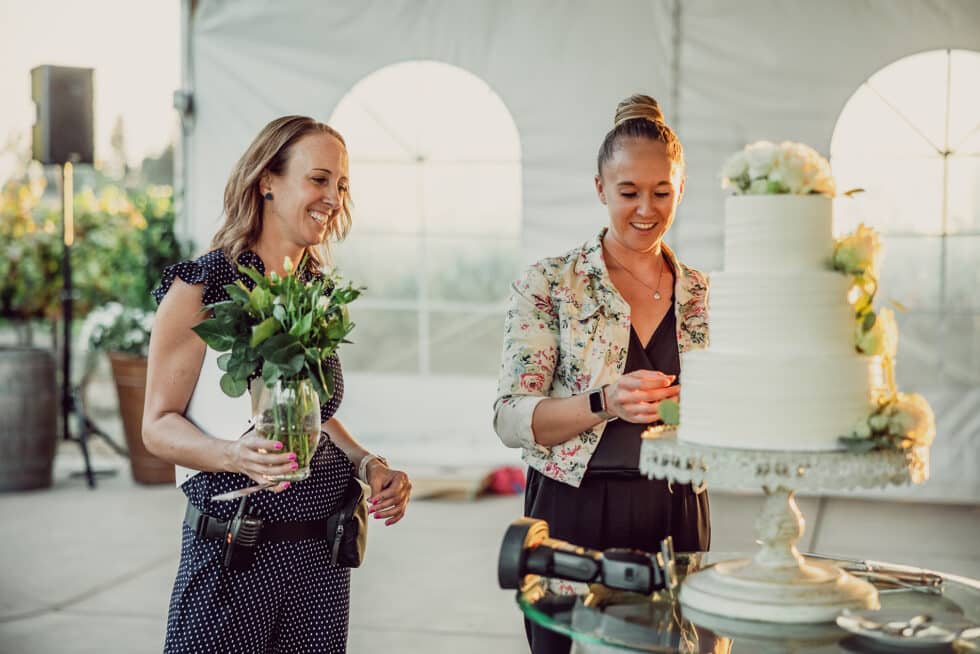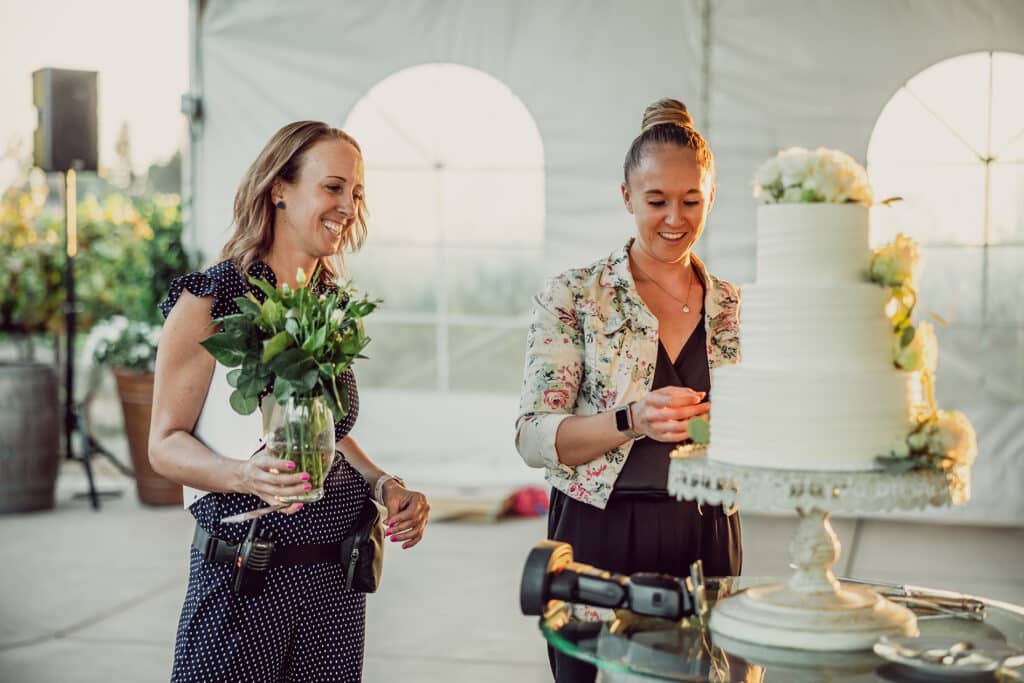 "Didn't it feel odd though to get married at the same place you work?"
"Not really! I knew exactly what to expect on the wedding day – I knew my team would have my back at every point of the evening, just like they do for all our couples. I knew the Paesanos Catering team and all my vendors personally too after working with them for so many weddings and events – I knew they would ensure everything ran smoothly. All our regular vendors are just so great!"
"What about the planning and coordinating part of the wedding? Don't you assist all the wedding couples with a lot of their planning? Who helped you?"
"To be honest, I was a little daunted by the thought of doing everything on my own, knowing how much I do to help our other couples. All my organization and the systems I had put in place to help everyone else really helped me in the end though. I had set myself up for as simple and stress-free of a planning process as possible!"
The Best Part of a Winery Wedding
"So what was your favorite part of getting married at Scribner Bend?"
"You know, our wedding day was absolutely amazing, but after everything was over, my favorite part turned out to be something a lot of other wedding couples had been telling me about. I hadn't truly understood it before, but there is something magical about coming back to our winery grounds and revisiting all those beautiful wedding day memories.
It's such a unique feature of our outdoor vineyard wedding venue that you actually get to come back to where you got married, enjoy delicious pizza, sip on good wine, and meld the beauty of that past moment with the beauty of the present. You feel like you've joined a very special family. I mean, I know I work here, but I actually love this winery even more now than I did before getting married here!"
"Do you feel like you get to share that magic with the other couples that get married here?"
"I really do. I love being a part of the wedding story at Scribner Bend Vineyards and sharing that story with all our couples. I love seeing how every couple brings their own style into the story too! They all have their own personalities and unique touches, which makes the whole thing even more magical."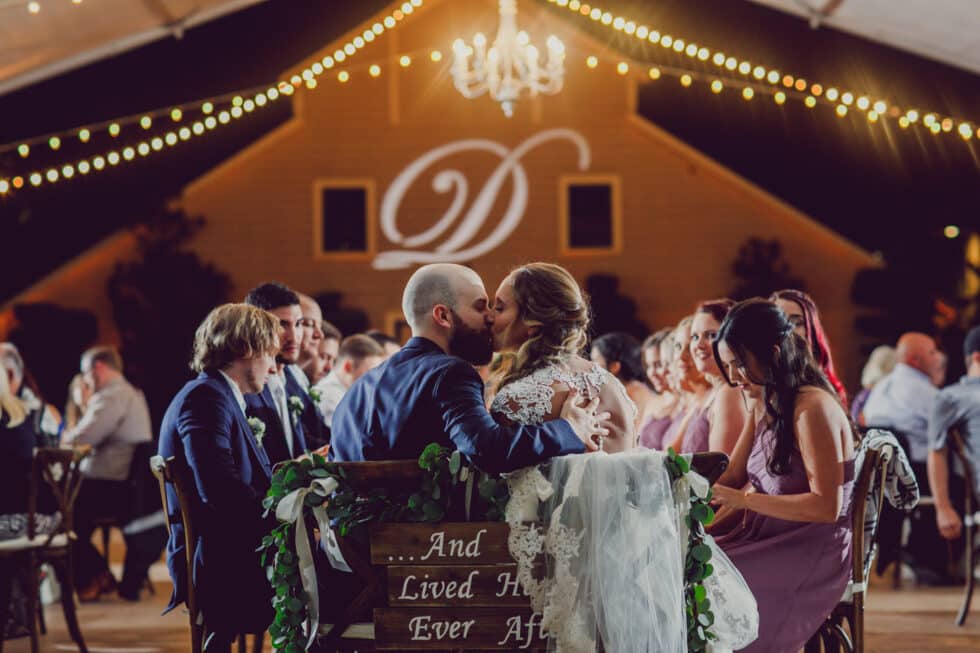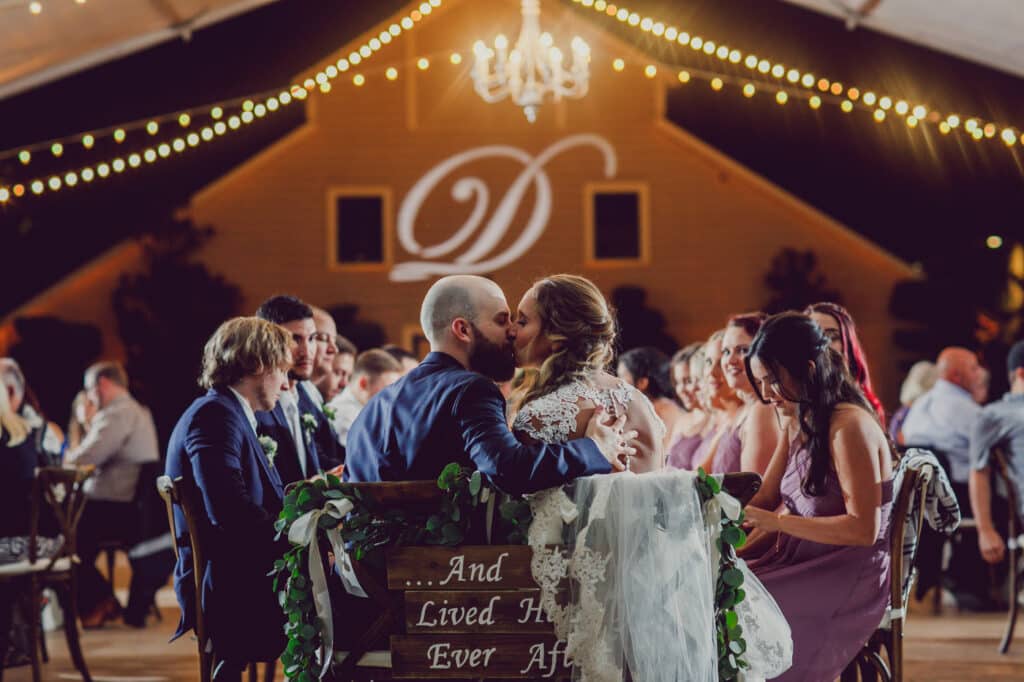 Wedding Venue Updates
"Is there anything you're excited about for this 2023 wedding season?"
"Absolutely! I'm very excited for the vintage Airstream Lounge that we are going to have available for our couples soon. They already have the Bungalow on their wedding day from 10:30 to the end of their reception as a great space to get ready, take pictures, and relax. Now they have this additional, separate space as a convenient hang out spot before their ceremony begins!
We also did a little refresh in the Chardonnay Garden by installing a gorgeous paved aisle leading down to the altar. It looks lovely!
Mostly though, I'm looking forward to meeting new couples and wedding guests and hopefully seeing them come back to the winery to enjoy our space on a regular basis as new Wine Club members. It's so easy to get married here and become a part of our winery family!"