"Mmmm…" we both murmured in delight as the dark red velvet of Scribner Bend Vineyards 2019 Syrah chased the luscious flavors of Caramelized Onion Cheddar across our tongues. Madeline, our Tasting Room Assistant Manager and a self-professed lover of all things cheese and wine, sighed happily and glanced up at me from where she stood across the small working kitchen of our Sacramento winery. We had been dreaming aloud together the day before about what food Syrah would pair well with, and I had made an impulsive side trip to Trader Joes on my way home that night specifically so that we could explore a little Syrah and cheese pairing today.
2018 Syrah
So here we were, in our own little wine & food heaven, inky pours of 2019 Syrah swirling up to tantalizing waves of crimson as we spun our glasses between our fingers and lingered over the cheese board. We took another sip of wine. Oh, this was good.
"Notice how smoothly it rolls across your palate?" I asked.
We both paused to savor the deep notes of spiced plum highlighted with just a bit of vanilla.
"Believe it or not," Madeline answered after a moment of contemplative silence, "right now I can almost taste that super cold pre-dawn morning that I helped with this Syrah harvest. I couldn't resist popping one of the grapes in my mouth right off the vine. It was bursting with ripeness. And it filled my senses with how downright aromatic it was. I remember how lush it felt on my tongue, with intriguing hints of vanilla and black berry."
We looked down at our wine, swirling it a bit, then both buried our noses in our glasses and inhaled deeply. I could almost smell that harvest morning she was describing. Another sip.
"And that finish is fantastic!" I exclaimed.
"Absolutely!" she agreed. "The finish on this Syrah lingers forever. It just doesn't stop with all its luscious goodness!"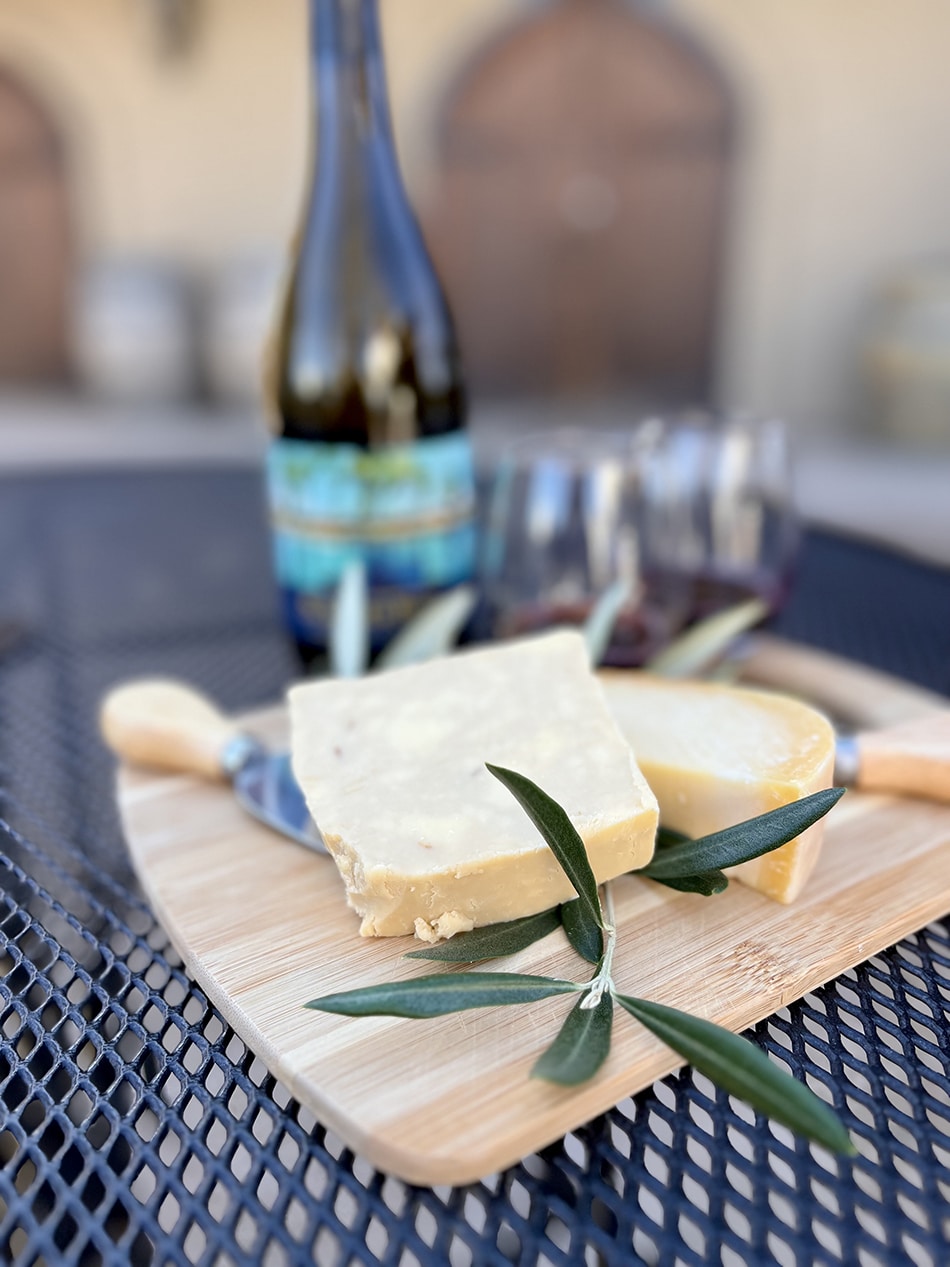 Cheese pairing
At this point, the cheese board called out to us once again, so we sliced off generous nibbles to go with the glasses in our hands. I had picked up two cheeses during my impromptu Trader Joes run the night before – Kaamté Gouda Style and Caramelized Onion Cheddar. The Kaamté was delicious, but we both agreed that it's slightly lighter flavor would be a better pairing with the lighter profile on the 2019 Pinotage or 2018 Nero d'Avola. The Cheddar though! There was true magic in the way this cheese's sweet and savory sides blended in with and yet also highlighted the plumminess of the Syrah. And the way the Syrah cut through the creaminess of the Cheddar, somehow accentuating the creamy texture while it was at it…
"Ooo… this could be addicting," Madeline murmured.
I had to agree. This pairing of our 2018 Syrah with the Caramelized Onion Cheddar was so incredibly perfect. I didn't want it to stop. I wanted to swim forever in the explosion of flavors going on right now. How could any wine and food pairing be so spot on?!
Other Syrah cheese pairings
Want to do your own Syrah and cheese pairing at home? We recommend trying out some of these bold beauties with our 2018 Syrah.
Blue cheese. The strong flavors in this cheese stand up well to the bold fruit of the Syrah.
Goat Gouda. Slightly sweet, often with a caramelized finish, this promises to be another perfect cheese & Syrah pairing.
Aged Cheddar. While not all aged Cheddars are made alike, a truly tangy one like Beecher's Flagship Cheddar is sure to delight when paired with our Syrah.
Camembert. Another heavy lifter in the flavor department, this cheese usually has some satisfyingly earthy notes that bring out the more savory side of the Syrah.
And of course, that Caramelized Onion Cheddar from good ol' Trader Joes!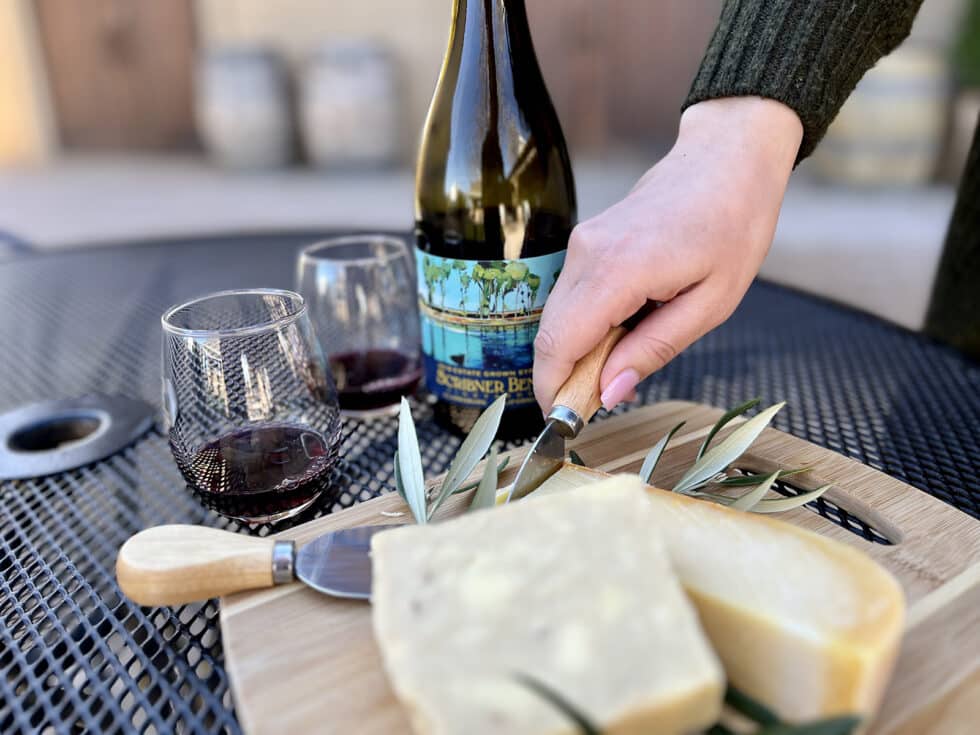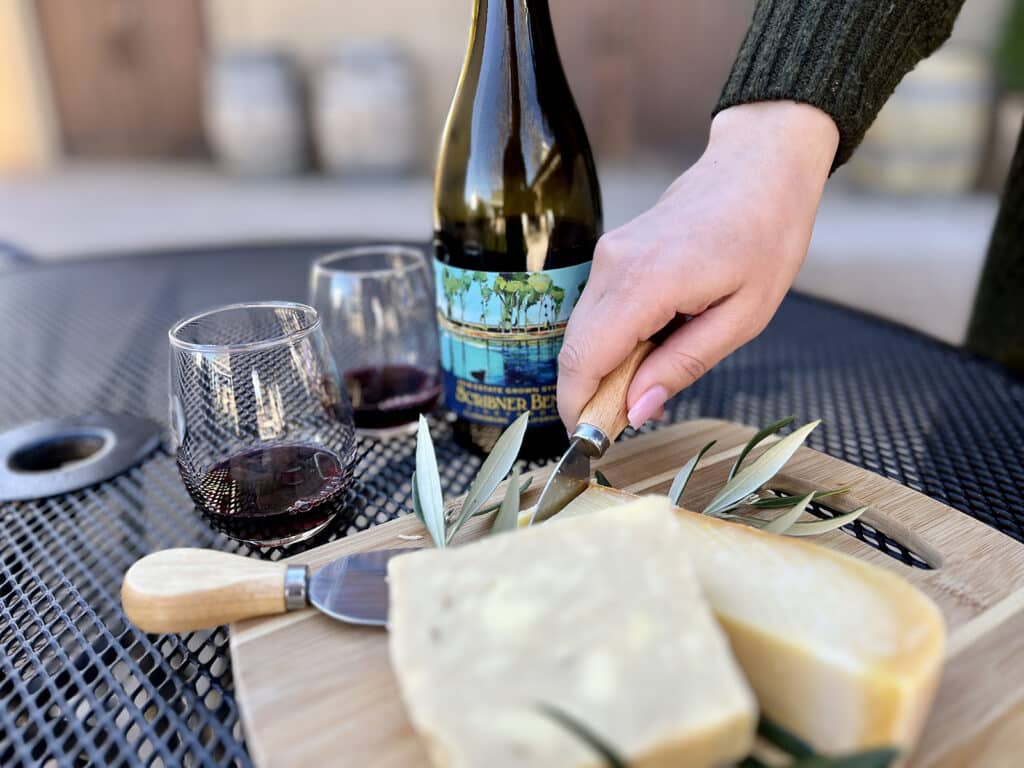 More Syrah food pairings
Thinking of planning a whole menu around Scribner Bend Vineyards' 2018 Syrah? The following dishes would be magical pairings as well!
Lamb Shank, Garlic Mashed Potatoes, and Roasted Green Beans with Cherry Tomatoes
Pork Loin with Spice Plum Sauce over Classic Rice Pilaf
Rosemary & Smoked Paprika Chicken with Oven-Roasted Root Vegetables
Braised Short Ribs with Truffled Mashed Potatoes
Even a messy, finger-lickin' good Pulled Pork Sandwich dripping with Sweet & Spicy BBQ sauce
Oh! And can't forget the Sloughouse Pizza from Paesanos Courtyard Kitchen Kiosk!
Syrah dessert pairings
Or maybe you want to skip straight to dessert? We get it! Here are some sweet treats that we think you'll find go extremely well with our 2019 Syrah.
Dark Chocolate Almond Raspberry Bark
Chia-spiced crème brûlée
Pumpkin pie
Now, I know you're dying to try this all yourself. So go forth! Follow in our Syrah and cheese pairing footsteps, or branch out on your own. Whatever path you choose, make sure to take pictures and tag us in all your posts – @scribnerbendvin.
Disclaimer: No, this post is not sponsored by Trader Joes. I just really love their cheese!